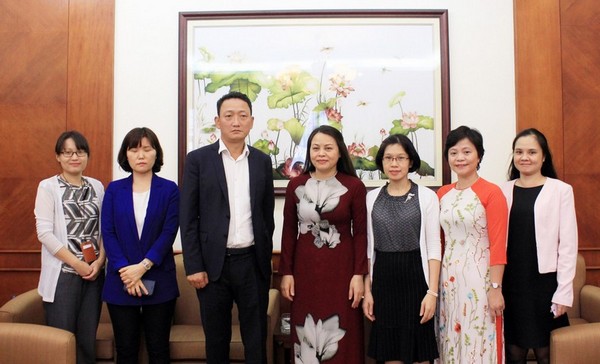 VWU President Nguyen Thi Thu Ha and Korean Ambassador - Kim Do-hyun (middle) at the meeting
On October 18th, Mrs. Nguyen Thi Thu Ha - Member of the Party Central Committee, President of the Vietnam Women's Union (VWU) – met with Ambassador of the Republic of Korea (RoK) to Vietnam Mr. Kim Do-hyun and discussed about cooperation to support Vietnamese brides in Korea
According to Mrs. Nguyen Thi Thu Ha, the VWU has actively cooperated with Korean partners to organize training courses and capacity building activities for Vietnamese women, including women entrepreneurs. VWU's close partners are the Korea International Cooperation Agency (KOICA) in Vietnam, the Korean Women's Development Institute (KWDI), the World Women Inventors and Entrepreneurs Association (WWIEA). The Vietnam-Korea Women's Forum has been held on a rotating basis in Vietnam and Korea since 2013.
In the future, Mrs. Nguyen Thi Thu Ha said, the VWU would like to have closer cooperation with the Korean side to support the Vietnamese-Korean couples and to minimize the risks associated with international marriage. The Counseling Centers on Family and Marriage under the VWU are helpful for both Vietnamese and Korean citizens in this aspect.
In response, Ambassador Kim Do-hyun confirmed the Korean commitment to work closer with the VWU in this field. The KOICA is going to approve a project aimed at supporting Vietnamese women who return home after marriages with Korean partners. It is going to be an important project to help them start a new life.
Translated by the VWU's International Relations De