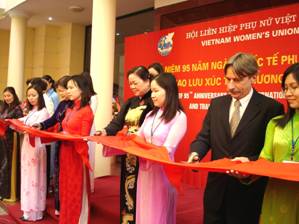 Opening celebration of the Exhibition of Trade Promotion
On 7 March 2005, in the headquarter of the Vietnam Women's Union in Hanoi, the Central Vietnam Women's Union celebrated the 95th anniversary of the International Women's Day and trade promotion activity.
Present at this ceremony are Madame Truong My Hoa- Party Central committee Member, Vice-president of the State, Madam Tong Thi Phong, Central Party Secretary, the Head of People's Mobilization, Madame Ha Thi Khiet- Party Central Committee, President of Vietnam Women's Union, Madame Vo Thi Thang, General Director of Vietnam National Administration of Tourism, Mr. Khuat Huu Son- Member of Party Central Committee, Deputy head of People's Mobilization Commission, representatives from embassies, international organizations based in Hanoi and many correspondents.
Madame Truong My Hoa and Madame Ha Thi Khiet visit the goods stalls.

After the ceremony of International Women's Day, the leaders of the Party, Government and VWU together with other organizations cut the ribbon to open the Exhibition of Trade Promotion. The Exhibition was participated more than 30 local enterprises which are mainly owned by women. At the stalls, participants could find diversified goods such as garments, foods, souvenir, handicraft, and ceramics...

Besides, on the occasion of one year foundation of the Center for Women and Development, in coordination with the trade unit of VWU organized many lively and interesting activities like cultural exchange between Vietnamese and international women, presentation of Vietnamese and international cuisines and consultation on women's health care and beauty.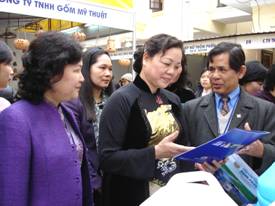 VWU President Ha Thi Khiet and Vice President Nguyen Thi Oanh visit exhibition.

Especially, the workshop on "Trade Promotion" with the contents like: services to access to market in Vietnam, experiences in participation to trade fairs, information and technology application in trading, product in response to market demand... brought many practical knowledge on business for the participating entrepreneurs.

(Source: Information Center)