Visitor: 29865610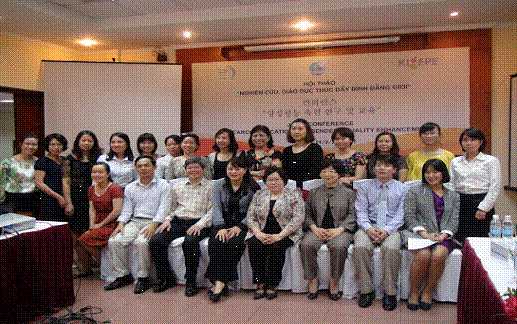 On 21st March 2013, to implement the MOU signed on 1st November 2010 by the Korean Institute for Gender Equality Promotion & Education (KIGEPE) and the Central Women Cadres Training School (now known as Vietnam Women's Academy - VWA), KIGEPE and the VWA hosted the Conference, "Research and Education for Gender Equality Enhancement".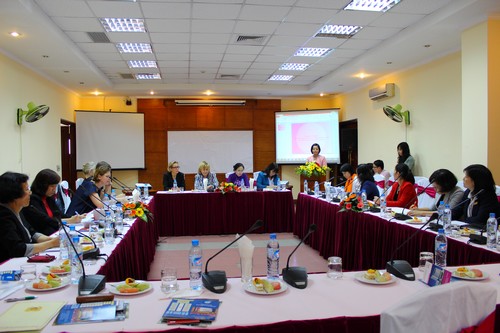 In the afternoon of February 28th, 2013 at the Center for Women and Development (20 Thuy Khue, Ha Noi), 1st Vice President of the Vietnam Women's Union (VWU), Hoang Thi Ai Nhien, had a meeting with the Swedish Minister of Justice and the Swedish Ambassador to Vietnam.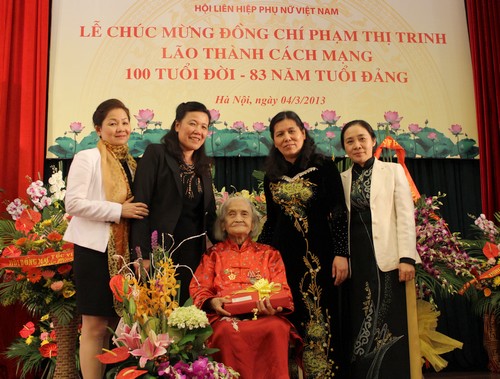 On the 4th of March, the Central Vietnam Women's Union held a congratulation ceremony for Mrs. Pham Thi Trinh, a revolutionary veteran, former staff member of the VWU, on the occasion of her 100th birthday. The event was organised to honor her contribution to the country's women's movement and the national revolutionary cause. By doing so, the event also served to educate younger staff members of the Central VWU and provided an excellent guiding example for their work.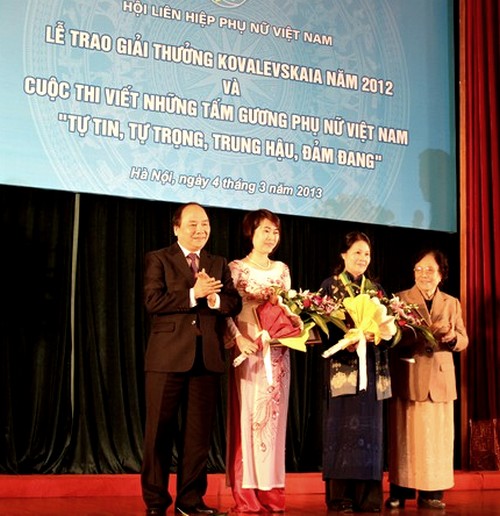 On the morning of March 4th, 2013 in celebration of International Women's Day (March 8th), the Central Vietnam Women's Union held a ceremony in Hanoi to praise and confer the Kovalevskaia award to individuals and collectives of outstanding women scientists in 2012. The event also recognized winners of the writing contest on "Vietnamese women's examples of self-confidence, self-esteem, faithfulness, and resourcefulness", and awarded Certificates of Merit to female doctors - members of the Vietnam Association for Intellectual Women who successfully completed Ph.D. theses in 2011 and 2012.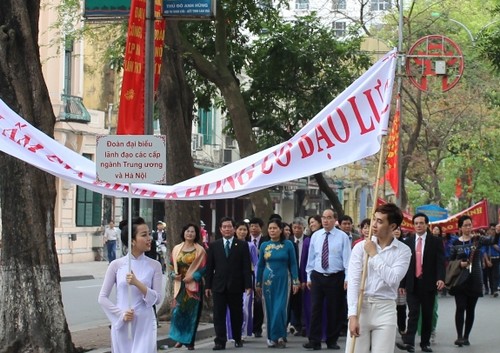 On March 16th, 2013, at Ly Thai To square, the Ministry of Culture, Sports, and Tourism in cooperation with the Vietnam Women's Union and the Hanoi People's Committee organized the Launch of Vietnam's Year of the Family with the theme "Connecting Love".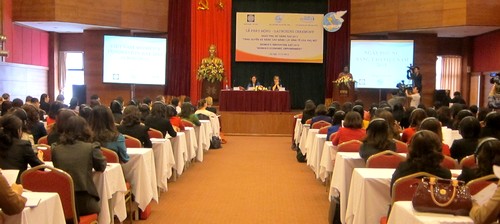 In the morning of March 13th, 2013 in Hanoi, the Vietnam Women's Union, the World Bank in Vietnam and the UN Women in Vietnam officially launched the "Vietnam Women's Innovation Day 2013" (VWID 2013) Program with the theme "Women's Economic Empowerment".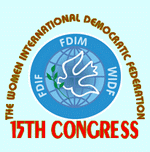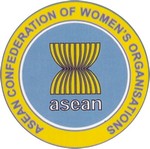 For Advertise