Visitor: 68067311
On June 16, VWU's First Vice President Hoang Thi Ai Nhien attended the event "We are together" held in Seoul (Korea)
NDO – The craft of making the colourful and elaborately decorated costumes of Red Dao women in Bac Kan province is careful and demanding process in every step, from dyeing to weaving and sewing.

On 14th of June 2018, the clean tea cooperative of the Son Hung Women's Union (WU), originated from the clean tea group of TYM members in Son Hung commune, Thanh Son district, Phu Tho province, was established. The conversion was supported by local WU and TYM.


Hanoi (VNS/VNA) - Raising tobacco taxes could help reduce smoking and the harm it causes to women and children, experts said at a workshop held in Hanoi early this week.


Hanoi (VNA) – Twenty-five artworks including paintings, videos and installations made by artists of Vietnam and the Republic of Korea (RoK) are on display at an exhibition which opened at the Vietnamese Women's Museum in Hanoi on July 4.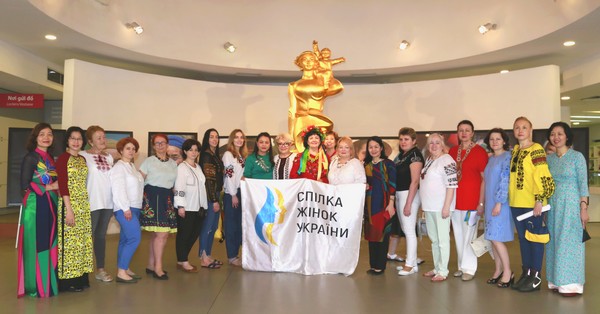 On March 19, 2018 at the Vietnamese Women's Museum, VWU's President Nguyen Thi Thu Ha warmly received the delegation of Women's Union of Ukraine (WUU) headed by Ms. Leokadia Gerasimenko - President of the WUU, Vice-President of the Ukrainian-Vietnamese Friendship Association, Peace Ambassador during its visit to Vietnam.