Visitor: 64147557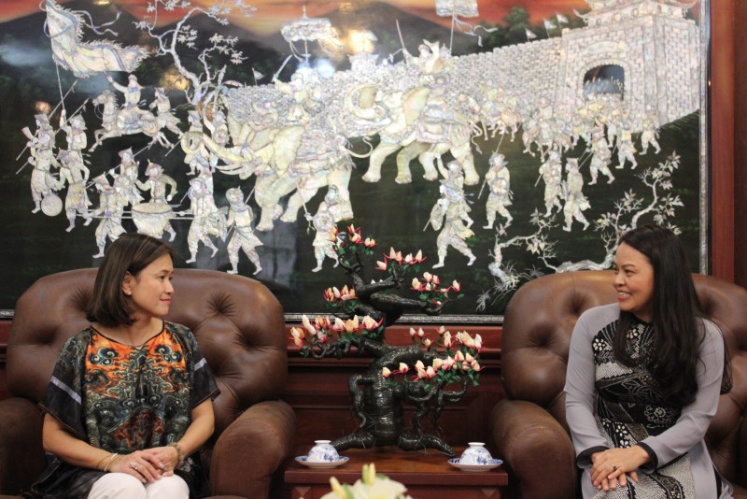 The United Nations Entity for Gender Equality and the Empowerment of Women (UN Women) highly appreciates the role of the Vietnam Women's Union (VWU) and recognizes it as an important partner in promoting gender equality and empowering women in Viet Nam.




In the afternoon of October 13, 2017, the Lao's Women's Union (LWU) paid a visit to TYM as part of the Lao's Women's Unions 2017 Training Course.
NDO – Dr. Nguyen Thi Hiep, a lecturer from the International University, under the Vietnam National University - Ho Chi Minh City, has been announced as the winner of the third annual ASEAN-US Science Prize for Women.

NDO - CEO of budget airline Vietjet Air Nguyen Thi Phuong Thao is Vietnam's only representative to be named on the 2017 Forbes list of the world's 100 most powerful women.

In two days October 30 and 31, 2017, representatives from the Vietnamese Women's Museum attended the Roundtable "Museums - Challenges in the 21th Century" held in Jakarta, Indonesia by Goethe Institute Regional Southest Asia and Pacific. The Roundtable is part of a multi-stage project on the future of museums in Southest Asia aiming to cooperate with institutions and experts not only from Southest Asia, but also from Germany.

NDO – The 2017 National Action Month on Gender Equality and the Prevention of Gender-Based Violence was launched in Ho Chi Minh City on November 4 evening, aimed at calling for attention and participation of relevant organisations and individuals in promoting gender equality and eliminating violence against women and girls.