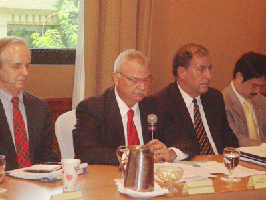 internet
The U.S. Embassy in Hanoi and Office 33, the Vietnamese Government's coordinating office responsible for Agent Orange/Dioxin issues, on September 8 started the fourth three-day meeting of the Joint Advisory Committee (JAC) on Agent Orange and Dioxin, with an effort of the United States and Vietnamese Governments to further deal with the adverse consequences caused by AO.
Speaking at the opening session, Vice Minister of Natural Resources and the Environment, Nguyen Xuan Cuong, noted that the consequences left by AO/dioxin was a very serious and a heavy burden, both for the environment and with the people's disabilities in Vietnam, which require a great deal of efforts.
According to Mr. Cuong, experts from both countries have worked together to design health and environmental projects initiated over the past year.
Office 33 participated in the selection process for disabilities and environmental remediation projects. on bioremediation, experts from the Vietnam Academy of Science and Technology (VAST) and the United States Environmental Protection Agency (USEPA) planned the project, visited Danang to physically set up the pilot, and are analyzing the results.
He said he hoped the fourth JAC meeting would put forth more specific and effective proposals and recommendations to focus on caring for AO victims with disabilities as well as remediate the environment.
Dr. Kevin Teichman, JAC co-chairman, emphasized that both sides should work more closely with each other in securing more common goals relating to the issue.
One year ago, in the third JAC meeting, JAC decided to establish a working group to accelerate the activities in overcoming the consequences of AO/dioxin in Vietnam, with the participation of scientists, JAC members, domestic and foreign experts, and some sponsors.
The working group has been responsible for identifying polluted areas; building up general and small projects to resolutely address dioxin pollution in Danang, Bien Hoa and Phu Cat; and carrying out prioritized healthcare activites, including caring for people with disabilities, and giving reproductive consultancy to reduce birth deformities.
According to VietnamNet, on September 7, Deputy Chairman of the Danang City People's Committee, Nong Thi Ngoc Minh, worked with the JAC joint expert group, led by Dr. Kevin Teichman, to discuss the contamination of the environment and the improvement of the lives of people who are affected by the dioxin around Danang Airport.
According to Dr. Kevin Teichman, after the results of the pilot implementation of biological technology in dealing with the environment around Danang Airport are announced, the US will promptly carry out another project to support Danang for decontaminating the environment and improve people's health, with a capital of some USD 3 million. Accordingly, they will focus on building up fences at Danang Airport to prevent dioxin from spreading.
The addressing of the consequences of AO/dioxin requires massive capital. The Government, many Vietnamese organizations and individuals have strived to deal with the problem; and many foreign countries and organizations have also helped Vietnam.
CPV