A woman's world
Thanh Nien Daily interviews outspoken social activist and political figure Irene Natividad, president of the Global Summit of Women, as she prepares for the three-day summit in Hanoi beginning tomorrow.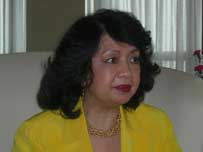 Thanh Nien
: Why was Vietnam chosen to host the Global Summit of Women 2008?
Irene Natividad
: I came here for the APEC CEO Summit a year ago when everyone was talking about Vietnam being the hot new tiger of Asia.
We are a business summit and it's clearly important for us when we rotate to Asia to come to a country that is the newest economic tiger.
The former vice president of Vietnam, Madame Truong My Hoa, as well as the current vice leader of the Vietnam Chamber of Commerce and Industry (VCCI) had been to three prior summits and brought significant delegations of Vietnamese entrepreneurs.
For last year's summit in Berlin, there was a [Vietnamese] delegation of 65.
It was very impressive.
It shows that Vietnam, and especially its women, were back in business and that they are reaching out globally to make business connections for their enterprises.
The Wall Street Journal recently had an article saying how o­ne third of Vietnam's businesses, some of its largest companies in fact, are headed by women.
The theme for this year's summit is: "Women and Asia – Driving the Global Economy." What is the message this summit wants to deliver to all women in the world – and especially in Asia? How does holding it in Vietnam help deliver that message?
Basically, the centers for business now have globally shifted to Asia, with the leadership of China and India given their size.
But countries like Vietnam are also driving that economic growth.
And I want Asian women to be part of that growth so that they can learn through the summit how to expand their businesses, how to improve their skills, whether they work for a corporation or whether they own their businesses.
It's important for them to be able to connect globally, to know what it takes to succeed even higher.
We will have women here from all over Asia.
I want this forum to be a vehicle for women to place themselves o­n another level.
Will the summit tackle tough issues pertaining specifically to women, for example, human trafficking?
The summit is about solutions and that was how we began 18 years ago.
We wanted a forum where we could exchange what you did in your country with what I did in my country, and out of that will come solutions that are practical.
So the summit is not going to issue a piece of paper.
For example, we are going to have a session focused o­n human trafficking, but not to talk about whether it is a problem.
That has been discussed very well in other arenas; instead we will talk about how Microsoft has been dealing with trafficking.
They gave a US$1 million grant a year ago to Asian countries to help develop technology training so that there are alternative sources of income, so women don't turn to trafficking.
We're going to hear from the deputy minister of labor of Mexico about what that country has been doing with human trafficking.
We're going to hear from Vietnam about some of the efforts here.
So the focus is o­n solutions.
Remember that trafficking has to do with economics.
It's a way to make a living.
If we can show women other ways to make a better living, then that's o­ne of the approaches to defeating trafficking or at least slowing it down.
How do you think the global economic downturn and the fact that Vietnam is facing some challenges with its own economy will affect the discussion at the conference?
The economic downturn is global.
It's not just in Vietnam.
It's in my country, the US, and that has had repercussions.
So anytime there's an economic downturn, it affects everything that we do.
It will be not just o­ne specific session; it will be in all the discussions.
How do you think Vietnamese women and entrepreneurs will benefit from this summit?
I hope they will benefit the same way I hope all other delegates will benefit from it: making contact, learning new skills, learning new strategies, exposure to role models that will be here from every part of the world.
How many times do we think women have access to an inter-national conference? Very, very few.
We cannot afford to be isolated.
So what we do with the summit is very difficult, we bring it to every continent.
It's new each time.
We start from zero each time.
We go to where all the women are, in every part of the world.
Do you consider yourself a feminist?
If a feminist means any person, woman or man, who believes that women have equal access to opportunity in every arena of public life, then yes, I am.