Global women's summit opens in Hanoi today
About 1,000 female entrepreneurs and politicians are set to attend the 2008 Global Summit of Women from June 5-7 in Hanoi.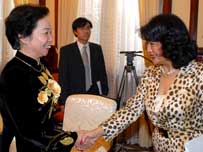 The delegates include distinguished guests like Mozambique Prime Minister Luisa Diogo, US Undersecretary of State Paula Dobriansky, the first lady of Burkina Faso,

Chantal Compaore, Malaysian Minister of Women, Family, and Community Development

Dr. Ng Yen Yen, top female executives from global companies and 30 ministers and deputy ministers from various countries.

Prime Minister Nguyen Tan Dung will deliver a speech at the summit opening.

Tran Thi Thuy, vice chairwoman of the Vietnam Chamber of Commerce and Industry and chair of the Vietnam Host Committee, said Vietnam has been chosen because of its political stability and also because it is o­ne of Asia's fastest-growing economies.

"This important event provides a chance for our women entrepreneurs to exchange business ideas and seek business partners o­n a global scale," she said.

Irene Natividad, president of the Global Summit of Women, said she is impressed by how Vietnamese women have been holding important roles in politics, including the position of vice president and vice chairperson of the national assembly, and business.

Thuy said Vietnam is among the Asian countries with the largest number of women in parliament with 25 percent of representatives.

Natividad cited an Asian Wall Street Journal article which said women head companies that represent more than 30 percent of the country's stock market capitalization.

This year's summit will focus o­n how women and Asia have been driving the growth of the global economy.

Delegates will discuss topics like battling human trafficking and avoiding cultural chasms while doing business in Asia while a women CEO's forum will discuss business opportunities and challenges for female entrepreneurs in the Asia Pacific region.

Both Thuy and Natividad said the global economic downturn and the country's economic woes will lead the discussion at the summit.

There will also be a pre-summit session this morning o­n "Doing Business in Vietnam" to introduce the country as an attractive investment destination.

It is expected to attract around 300 CEOs, Thuy said.

For 17 years, the summit – informally known as the "Davos for Women," referring to the annual summit of global leaders and entrepreneurs held in the Swiss resort town – has been a highly-respected arena for women that brings together global female business and governmental professionals to discuss issues facing women and exchange business ideas.