Korean cultural center opens in Vietnam capital
The first-ever Korean Cultural Center in Southeast Asia was opened Saturday in Hanoi in the presence of the Republic of Korea's First Lady Kown Yang-suk.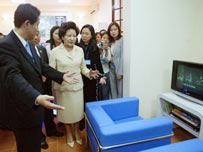 The first lady attended a ceremony marking the center's launch, which coincided with the two-day annual summit of the Asia-Pacific Economic Cooperation forum that opened Friday
Vietnamese Minister of Culture and Information Le Doan Hop inaugurated the center o­n 49 Nguyen Du Street.


Speaking at the ceremony, Kown said, "RoK decided to set up a cultural center in Hanoi since Vietnam has an important role within the region."


Seoul picked Hanoi for its first cultural center in Southeast Asia, considering Vietnam's sizzling demand for Korean pop culture and growing Vietnamese emigration to RoK, mostly for marriage to Koreans, said South Korea's Ministry of Culture and Tourism, which manages the center.


The Korea Cultural Center is a three-story building with facilities to provide contemporary RoK popular entertainment such as movies, music videos, television drama series and animations that have a huge fan base in Vietnam and other Southeast Asian states.


Also, Korean-language programs will be offered for Vietnamese youth, the ministry said.


The RoK also runs six similar cultural centers in the United States, China and Russia. It plans to open four more in countries such as Argentina and England before the year's end.


The RoK forged formal diplomatic relations with Vietnam in 1992.