Signing Ceremony of a Project Providing Support to International Marriage
To protect interests of the Vietnamese brides in foreign marriage and family relations, contributing to put strict implementation of regulations of Law on Marriage and Family relating to marriage to foreigners.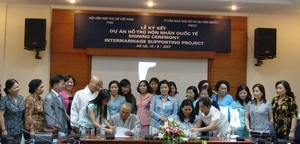 This is the goal of the project o­n Supporting International Marriage (called "project" in abbreviation), signed by Vietnam Women Union (VWU) and Cultural Center of Vietnamese Women in

the Republic of

Korea (VWCC) in the afternoon of August 10th 2007 in Ha Noi, at the witness of leaders of the two bodies, representatives of several Central department/sectors and the staff from the women's unions in the project sites.
Targeting that goal, the project focuses o­n promoting support to the establishment and enhancement of the operation capacity of the 40 Marriage Supporting Centers of 64 provinces/cities (at present there are 12 Marriage Supporting Centers); providing counseling, guiding, and assisting in marriage procedures for women who are to marry foreigners in accordance to Vietnam legal system; designing and producing teaching document for training and conselling; establishing cooperation mechanism among organizations in supporting international marriage, contributing to limited negative aspect of matchmaking for illegal benefits. The project will be implemented within five years (2007 - 2011).
Translated by Int'l Relations Dept.