VWU presents 20 maces of gold to medical workers at mass wedding
On the evening of February 20, 2022, in Ho Chi Minh City, 175 Military Hospital held a cultural program entitled "Pulse of life" and a wedding ceremony for 20 couples of medical staff to show high appreciation to frontline forces for their great efforts in the COVID-19 pandemic prevention and control.
VWU President Ha Thi Nga presents wedding gift
The event was attended by Mr. Truong Hoa Binh - former Standing Deputy Prime Minister, Ms. Truong My Hoa - former Vice State President, and Ms. Ha Thi Nga - Member of the Communist Party Central Committee, President of the Vietnam Women's Union (VWU), etc.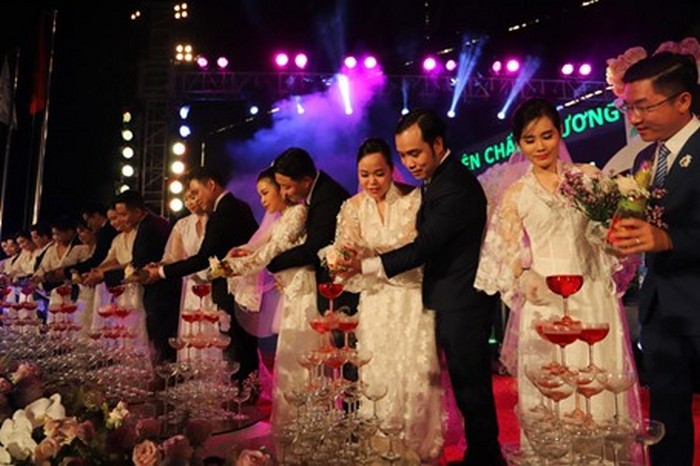 Image of mass wedding
On this occasion, on behalf of the VWU, Ms. Ha Thi Nga presented 20 maces of gold to 20 couples as wedding gifts.
Colonel Tran Quoc Viet, Deputy Director of 175 Military Hospital said that during two years of the COVID-19 pandemic, many young doctors and nurses as well as frontline forces had to postpone their weddings even when they had engaged in order to participate in the pandemic prevention and control. The hospital leaders decided to organize a collective wedding to encourage and honor medical workers for their contributions.
Cultural performance
The event included an Ao Dai performance with images and documentary of medical staff's unique and heart touching anti-pandemic stories, and a traditional wedding ceremony with the wedding dress show by the couples.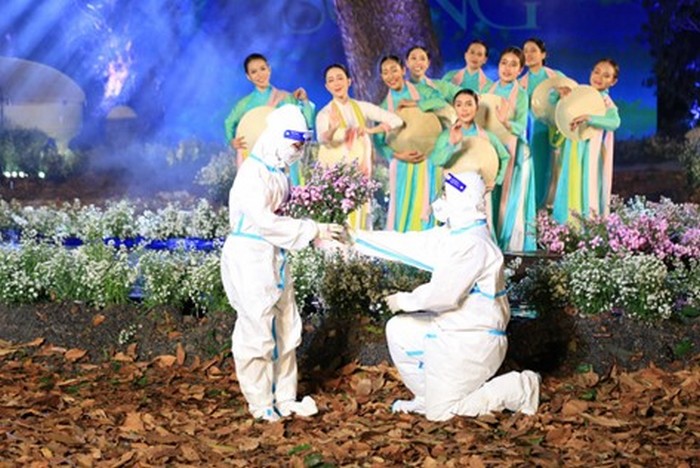 Couple infected with COVID-19 truly moves audience