Cooperation between Vietnam Women's Union and Women's Union of Ukraine to be promoted
On March 19, 2018 at the Vietnamese Women's Museum, VWU's President Nguyen Thi Thu Ha warmly received the delegation of Women's Union of Ukraine (WUU) headed by Ms. Leokadia Gerasimenko - President of the WUU, Vice-President of the Ukrainian-Vietnamese Friendship Association, Peace Ambassador during its visit to Vietnam.
At the meeting, Ms. Thu Ha shared with the delegation information about the VWU, contributions made by Vietnamese women to the national construction and defense and highlighted VWU key tasks in the current period, which include:providing information, mobilizing, and supporting women in their comprehensive development, building happy families; mobilizing and supporting in business start-ups, economic development and environmental protection; participating in the supervision and social feedback to draft laws and policies related to women and children, in Party and government building, strengthening people-to-people international relations…
According to Ms. Thu Ha, the two women organizations share similarities in terms of functions, tasks as well as activities. Being part of the delegation, there are members from various sectors such as business women, politicians, social activists, therefore VWU's President wishes, through this visit, the two sides will exchange more information and experience to seek opportunities for cooperation in the potential and specific areas, contributing to the promotion of the friendship between the two countries and the two women organizations.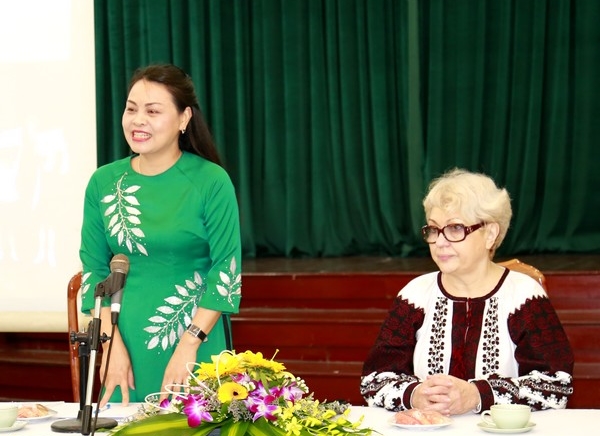 VWU's President Nguyen Thi Thu Ha welcomes the deleg


Ms. Leokadia Gerasimenko expressed her thanks for the warm welcome of the VWU's leaders, and her great love and impressions towards the country, people and women of Vietnam as well. She recalled her best memories and deep gratitude to the prompt support of the Vietnamese Party, State and people to the Ukraine people and women during the Chernobyl disasterin Ukraine in 1986. She also informed that there is a school named President Ho Chi Minh and a friendship museum Vietnam – Ukraine in Kiev city.

Ms. Leokadia Gerasimenko expected that educational activities by the two organizations would be organized for young generations of the two countries so that they could understand, value, maintain and strengthen the friendshiprelations between the two countries and a closer cooperation of the two organizations to be promoted in the coming time.

After the meeting, the delegation had also visited the Vietnamese Women's Museum.
Translated by the International Relations Department