Relations between Vietnamese women and Lao women strengthened
Following the success of the Friendship Visit to Lao and the Vietnam-Laos-Cambodia Women's Forum in 2017, from April 1st to 7th, 2018, the Vietnam Women's Union (VWU) received a 34-member-delegation of the Laos Women's Union (LWU), headed by Mdm. Inlavanh Keobounphanh, a member of the Central Committee of the Laos People's Revolutionary Party, LWU President. The delegation consists of leaders of LWU Central Office, provincial Women's Unions and several central agencies.
In Vietnam the delegation had various significant activities in five provinces including Gia Lai, Dak Lak, Khanh Hoa, Lam Dong and Kon Tum. The delegation visited the Dak Lak Museum to discover the cultural beauty of local ethnic groups; visited Kotam Ecotourism Company and learned about the Women's Union's support to women entrepreneurs; visited the hightech flower and vegetable farm in Da Lat city; attended the ceremonies to award scholarships to students and present an affection house to a woman in need in Gia Lai and Kon Tum provinces. o­n this occasion, in Gia Lai province the VWU opened the exhibition "Lao-Vietnam Eternal Friendship" with 112 photos highlighting the traditional friendship, special solidarity and comprehensive cooperation between the Parties, States, Governments, people and women of Laos and Vietnam.
Particularly, o­n April 6, outstanding Vietnamese and Lao women were honoured with Orders by the Vietnamese and Lao States at a ceremony in Pleiku, Gia Lai Province in the presence of Deputy Prime Minister Vu Duc Dam and more than 300 representatives from ministries, sectors, organizations and Lao Embassy in Vietnam, Lao women delegation, the central and provincial Vietnam Women's Unions.
Speaking at the ceremony, VWU's president, Mdm. Nguyen Thi Thu Ha said that the cooperation activities between the two women's unions have been developed rapidly and effectively. So far, the Women's Unions of all ten provinces bordering Laos have signed cooperation agreements with the LWUs at the same level. She also stressed, now that noble orders have been awarded by the two States to outstanding individuals and collectives of the two women's unions , the two organizations need to strive for a deeper and more comprehensive cooperation in the future.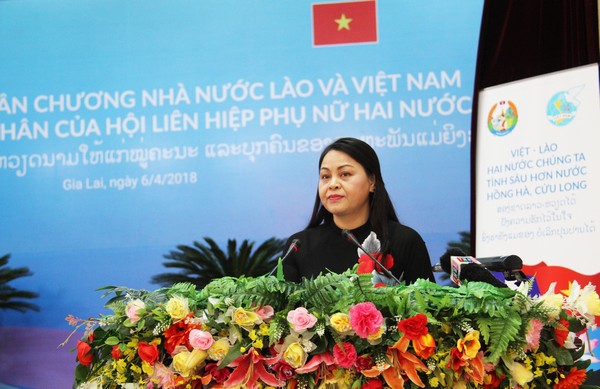 VWU's president, Mdm. Nguyen Thi Thu Ha highlighted cooperation activities of the two Women's Unions to help strengthen the special relations between Vietnam and Laos
The ceremony was aimed to honour the great contributions by Lao and Vietnamese women in strengthening the friendship and solidarity between the two countries and the cooperation between the two Women Unions. At the ceremony, Laos' Issara (Freedom) Order - Third class - and Labour Orders - Third class – were presented to several collectives and individuals from the VWU.
Also, Vietnam Deputy PM Vu Duc Dam presented an Second-Class Independence Order to LWU President Inlavanh Keobounphanh, Third-Class Independence Orders to three LWU Vice Presidents and Friendship Orders to outstanding collectives and individuals from municipal and provincial LWUs.